To begin this series I met Chef Carlos Perez, Owner of La Palette Bakery and Executive Chef at 4 Eat and Drink, house where he was more than welcoming and open to sharing his knowledge and experience in the restaurant. If you are in the Farmington area and are looking for a meal be sure to visit Carlos Perez at either of his locations.
Did you attend culinary/how did you find in passion in becoming a chef?

When I was 8 years old my mother showed me how to make chocolate chip cookies from scratch, I was on vacation from school. Both my parents are artists and I've always loved creating and admiring the finished product. Not long after she had surgery and was on bed rest. I wrote a whole menu for the week and cooked it for her. After that, it just stuck. At 12 I went to the French bakery in town and bought a french style cheesecake. The owner tasted it and asked me to come back a year later when I was 13, probably not thinking that I would. I did, he hired me and I worked 40 hrs a week throughout high school. When I graduated I went straight to the French culinary institute but a lot of the techniques had already been shown to me. It gave me a running start…


Describe what being a Chef is to you, why do you choose to wake up and do this every day?

Its art, plain and simple, being a chef is the same as being an artist, just a different medium. You're painting your picture on a plate instead of a canvas. We have a responsibility not only to keep providing beautiful delicious food for society but also educate them on health, farm to table, organic, sustainability. I wake up every day excited for work (except brunch, every chef hates working brunch), because its a new day to create new dishes, I get to see the satisfaction when the customer has the first bite, or see the empty plate when it comes back from the dining room. I get to spend my days working with my best friends and kitchen family knowing they've got my back and I've got theirs. I'm part of a team, working towards a common goal to satisfy, inspire, and provoke emotion. What a cool fucking industry to be a part of!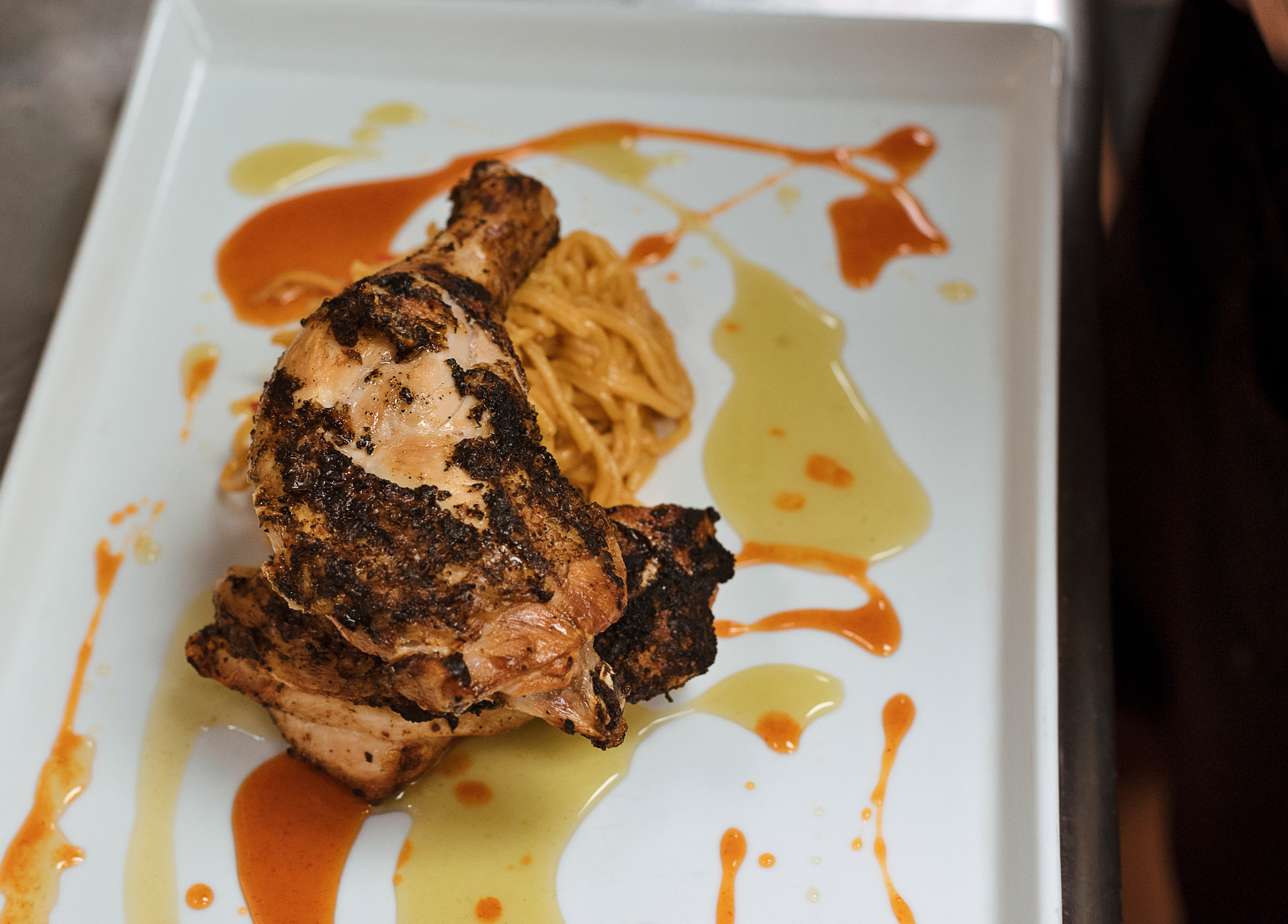 What are the ups and downs of being in the kitchen?

This list could go on forever. Ups? Free quality food, you get to work with a lot of different ingredients, taste things that most people don't even get to see. You get to change the menu and run specials…bored making striped bass? let's change it up and do suckling pig. You are part of a working family in the kitchen, I can ask anyone of my guys for absolutely anything, they'd give me the shirt off their back because we're all basically brothers. We're always talking, even when we don't work together, we give each other advice, help each other through good times and bad, and boost each other up. That's not just in this one kitchen, I still have friendships like that from guys I worked with 5 years ago.
Downsides? Long hours, lack of time for family and friends outside of work, you always smell like onions, garlic, and fish. Your clothes get stained, your body deteriorates much quicker than most other jobs, the stress level is super high at all times, you have to meet deadlines, there's no other option. You get burnt…and you get burnt ou
So its safe to say the life of a chef takes a toll on personal life?

Ha. Yes. It's not easy, especially with relationships, its one of those things you have to choose which one is more important to you unless you find someone that has the same sort of hustle and works a million hours a week. Being a chef restricts your personal time, you don't have much time to see family or friends. You're working when everyone else goes out to socialize and enjoy themselves, family dinners, holidays, Xmas eve, weekends, birthdays, graduations special occasions. Even when you are off, a lot of times you sleep it away. I have Thanksgiving and Christmas off from the bakery, catering, and restaurant, but the craziness prior is so physically and mentally draining that I'll often time sleep through the day (96 straight hours of cooking and baking with no sleep is my record) You miss out on so much in life in terms of family and relationships. Besides that, you're constantly rushing, it makes running errands really hard and just day to day activities. Time for the gym? Forget about it, you barely have time to put gas in your car.



So I've always heard rumors that a Chefs eating habit is absolutely horrible and consist of a lot of junk food. Would you say that's true? How would you describe your eating habits?

We're overexposed to a lot of great high-quality food. On any given night we stare at hundreds of lbs of chicken, pork, beef, and seafood. We taste, to make sure the flavors are right, but for the most part, were so overexposed to it that we crave things we don't make. At 4 Eat and Drink in Farmington the owner owns Naples Pizza next door. That makes up most of our diet, pizza, grinders, whatever we don't make. There's a scene in burnt I always bring up because I think its brilliant. Bradley Cooper looks at the fast food burger and says something along the lines of "taking poor cuts of meat and making them into something delicious for the working class, the basis of French peasant food". This industry is built on the working class, were not in this to get rich, we eat what we can afford…and a lot of the time that's late at night when everything is closed because we grind all day long. Our fridges are bare most of the time because it's very rare that we want to cook at night (although I still do and experiment with dishes when I get home). My personal habits always consist of some sort of coffee in the morning, normally espresso, not usually any food. Early afternoon I'll shovel whatever I can make in under 3 min in my mouth, possibly a slice of pizza if Naples brings some over at night, but not till after the rush so usually 10 or 11…if I'm still hungry I'll usually stop at the store and grab a quick snack.

What are you looking to accomplish next?

Long-term id like to own a couple of different restaurants, possibly different concepts. On a much more short-term level though I just want to keep growing and gaining attention, learning for my own sake. Especially as of late I've received so many messages from people I haven't seen in years or even people I've never met complimenting my work, praising the Anthony Bourdain Tribute dinner coming up in July, and supporting the constant hustle, I'm humbled by it, its a great feeling. My biggest accomplishment id like to tackle is to be inspiring to other chefs, to get them to step into the light, work their butts off, get noticed and gain recognition, to get them to work as a team towards a common positive goal.